HOT & Selling Fast!
Current Stock Available = 0
Regular price
$0.00 USD
Sale price
$7.50 USD
Unit price
per
Sale
Sold out
Enjoy a sweet and lightly crunchy treat with our VERY BERRY 🤓 FREEZE DRIED NERD CLUSTERS! Our freeze dried gummy clusters are extra special—they're transformed from a chewy gummy candy into a a light puffed candy that's airy, crunchy sweet and tart goodness and INSANELY addictive ~ sure to delight your taste buds! So go ahead, satisfy your candy craving with a handful of this delicious freeze dried candy!
Note: We do not "freeze candy", freeze dried candy is similar to dehydrated candy, however it is an entirely different process for freeze drying candies. We freeze dried Nerds Gummy Clusters (genuinely authentic) which removed the moisture and transformed them into an entirely NEW, more intensely flavored, airy, crunchy, sweet and tart INSANELY addictive candy! 🤩

Nerds is a registered trademark of Ferrara Candy Company ("Ferrara") and Happy Stones Freeze Dried is not affiliated with or sanctioned by Ferrara. We are in NO way attempting to use the mark to brand our product ~ we are merely disclosing the raw material of our product.
NOTE: These are FRAGILE! We take care to package and ship securely, however some of these may turn to powder depending upon shipping carrier handling.
Boom! 💥 Look no further for the top spot to score deee-lish freeze-dried treats—Happy Stones Freeze Dried! 🍭 We're a fam-bam-run biz, and we're dedicated to hooking you up with the tastiest snacks, safest packaging, and speedy delivery. 🚀 Support a 🇺🇸 Small Fam today—they'll make sure you can indulge with peace of mind. 🙌
Happy Stones Freeze Dried is your "GO-TO" freeze dried candy website! Order now and see why our customers say we are the best 👍 freeze dried candy nearby - we're just a click away! We are on Etsy too! Visit us @ Esty Freeze Dried Candy Shop
Share Us 💌 With Your Friends❣️
Net Weight : Freeze Dried

Around 1.2oz or 34g in each bag
Packaging

Packaged in a resealable mylar bag & heat sealed above the tear notch for maximum freshness.
Ingredients

Nerds® Gummy Clusters (Very Berry): Dextrose, Sugar, Corn Syrup, Modified Corn Starch, Gelatin, Contains 2% or Less of Malic Acid, Citric Acid, Sodium Citrate, Apple Juice Concentrate, Acacia (Gum Arabic), Natural and Artificial Flavors, Carnauba Wax, Color Added, Blue 1, Red 40, Red 40 Lake, Blue 2 Lake, Carmine (Color), Blue 1 Lake, Yellow 5 Lake.
Allergy Information

Manufactured in a facility where milk, eggs, tree nuts, peanuts, wheat and soy are used in the production of other products.
Safety Warning

Small objects such as hard and soft candies may inadvertently become lodged in the throat.
Notes

Ingredient information provided by manufacturer and considered accurate at time of posting. Refer to product labeling or contact manufacturer directly for current data.
Trademark Info

Nerds® is a registered trademark of Ferrara Candy Company. Happy Stones™ is not associated with or sponsored by Ferrara Candy Company.
View full details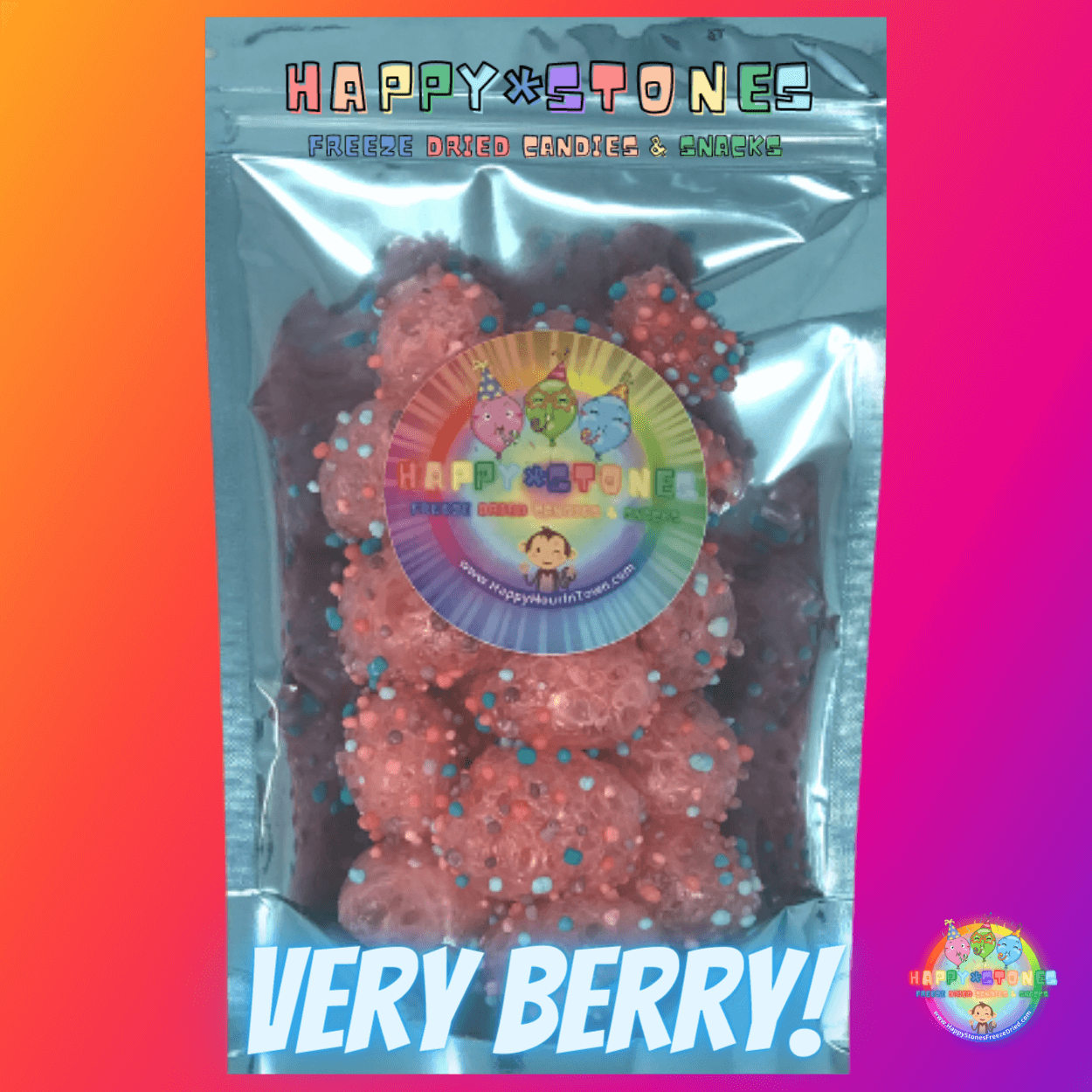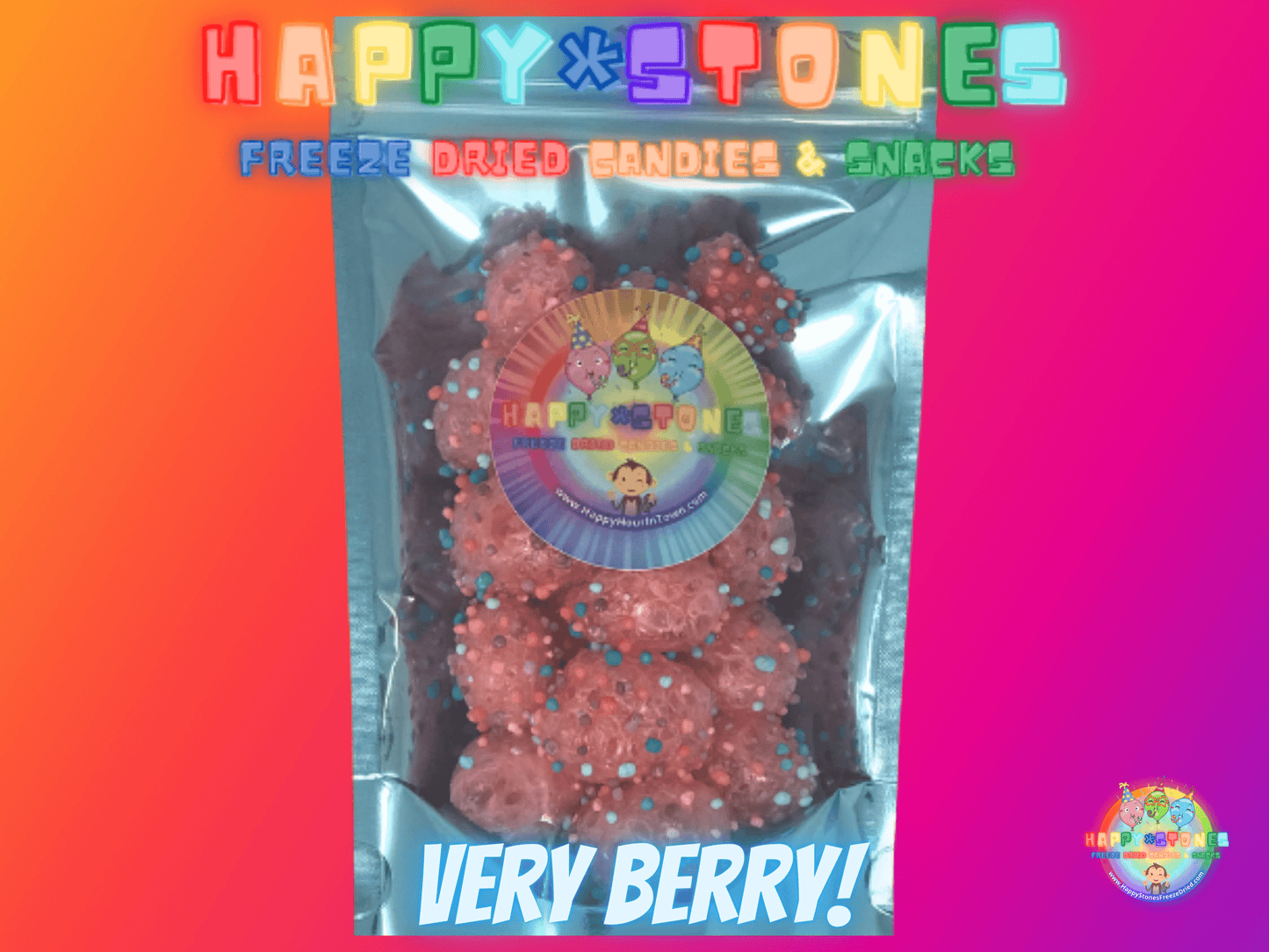 Important Notice:
Some candy manufacturers prohibit the use of their candy names to be listed anywhere, other than as an ingredient. In order to prevent consumer confusion, possible trademark infringement and to protect the trademark rights for each manufacturer, we have an obligation to inform all potential customers of the following: #1 We are in NO WAY affiliated with, have a sponsorship association or represent any of the candy manufactures listed on our site. #2 The trademarks for these candies are exclusive to each manufacturer and are NOT owned or claimed to be owned by Happy Stones. #3 These freeze dried candies are NOT created by or sold by the manufacturer of the actual candies. Deception on the source or origin is strictly prohibited. #4 The candies that we use ARE authentic candies however, once the candy is Freeze Dried, the texture and sometimes the taste changes or intensifies. And we like our freeze dried candy that way 👍
This review has no content.
This review has no content.
Fast shipping and so so good. I keep order...
Fast shipping and so so good. I keep ordering!
This review has no content.
This review has no content.
This review has no content.
This review has no content.
This review has no content.
This review has no content.